In the twenty-first century, few things are more important to a business than a strong ranking on Google. Internet traffic stemming from search engines funnel so many customers towards businesses that countless companies have abandoned physical retail outlets altogether.
The process of improving your business's Google ranking isn't complicated, but does require patience, as well as a commitment to creating great content. The best way to catch Google's attention is to create pages that provide value, and which target a few specific keywords — not a wide variety.
Although you should have a rough idea of the pages you'd like your site to include before carrying out research, analysing the approach used by your most successful competitors is a great shortcut to gaining a high ranking on Google.
Note: the terms keyphrase and keyword are used interchangeably throughout the article.
Research your competition and gather keywords
Google's search algorithm is complex and secretive. This means that improving your search engine ranking can be extremely time consuming. To overcome this you can consider several competing websites as case studies, and mimic the SEO approach used by the most impressive — or the best aspects of several.
Begin by noting down your top five competitors (an Excel or Google Docs spreadsheet is a great way to do this). Once you've listed your competition, think of your top three goods or services, and begin listing key phrases that describe that product. For example, if you're a music shop specialising in violins based in Oxford, you could note down "violin shop Oxford", "music shop Oxford", "beginner violin for sale", and "violin repairs Oxford".
There are two key requirements when picking keywords, however. First off, as a small business you shouldn't try and attack broad keywords (e.g. "violins for sale") as it's extremely tricky for a new site on a budget to rank for such keywords. Secondly, don't discount niche search terms (e.g. "violin strings for sale Jericho Oxford") if they perfectly fit your product. Although the number of people searching for that phrase will be small, you can almost guarantee you'll convert all into customers.
Now that you've listed keywords you're interested in ranking for, search for each of them on Google. Each time you should note down the top three websites returned in the listings along with their order, and whether any adverts are included on the page. These websites are also your competition, and should therefore be included in your Competitionnotes.
Prioritise and sort your keywords
Having collected a list of keywords you're interested in targeting, you need to determine which are the most suitable to work on first. This is roughly calculated based on the volume of searches the keyword or phrase receives, competition strength, and relevance to your business.
The search volume of a given term can be found using a platform such as Semrush and ahrefs. Run each keyword through the tool, noting down the search volume for each phrase. At this stage you shouldn't discount any of your potential key phrases on the grounds that the search volume is too great or too small.
Don't already have a Semrush account? You can sign up for a 7-day free trial on their site.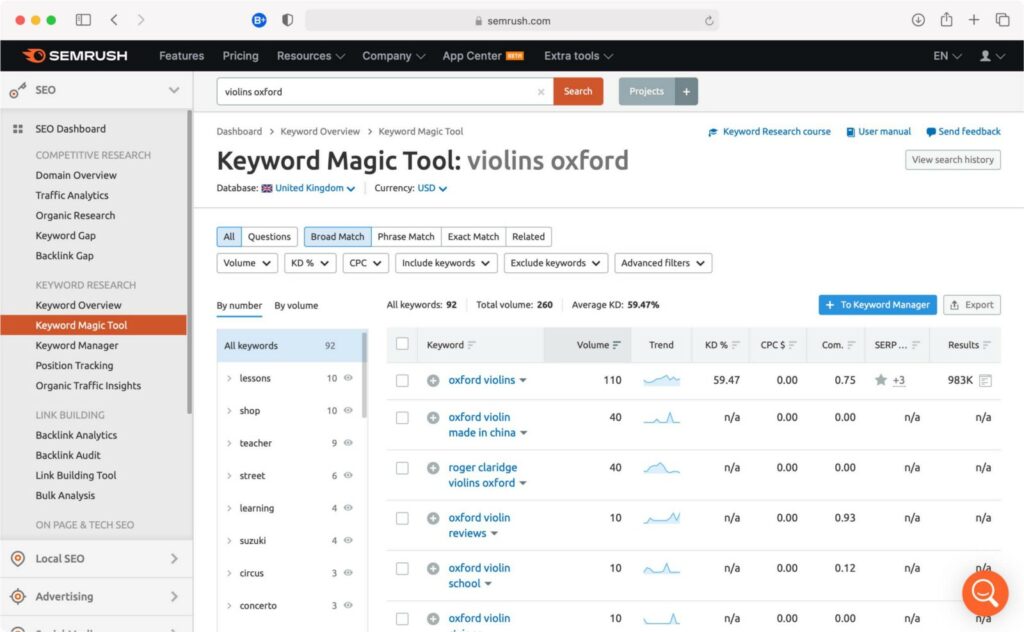 Having collected and researched keywords, you should begin pruning your list to between 10 and 30 results. Focus on retaining the keywords you believe represent the best ratio of your time investment (in terms of improving/developing your site) to potential traffic returned.
Using your pruned list, return to Google and search for all of the keywords once more. This time you should investigate the top three sites that are returned for each search as though you were a customer, and ask yourself the following questions and note down your findings.
Does the website answer your search query?
Does the page contain any variations on the keyword/keyphrase you search for? For example, violin repairs vs violin overhaul.
Does the site impress you and highlight expertise? If you were a customer, does the site convince you to use their service.
Has the site owner modified their site to rank on Google? This step is a little more complicated, and involves checking the page's source code. Search the page's source for 'meta'. If the site has put any effort into SEO then you should find at least a <meta title> and <meta description> tag — not the case in the clip below! A site which hasn't implement an SEO strategy is much easier to overtake than one that has.
Now consider the results you've collected. Based on this information, order your refined 10–30 keyphrases by ease of attack. Keyphrases with a relatively high search volume, but which return poor quality websites without any evidence of SEO should be at the top of your list. Begin with the low hanging fruit, before progressing on to harder phrases.
Creating pages and articles
Although the basics of writing for search engine ranking is deserving of it's own post, the following pointers are crucial factors to consider.
Using your notes from individual site inspections, consider what the top ranking site is doing to achieve its position for your chosen search phrase. Do they deserve that position? Ultimately, design your page with the objective of creating a better page than the top ranking site.
Ensure that your page is grammatically correct, and contains at least 500 words on the question it is addressing. You should also do your upmost to ensure your content is original — Google values original content. E-commerce websites are the most prone to duplicate text as most webmasters copy and paste the item descriptions given to them by the manufacturer. Although this saves time, it can hamper your ability to overtake your competition in search listings. Therefore, you should create original descriptions for each of your listings.
As far as keywords are concerned, make sure that your main heading (h1 tag) contains your keyphrase, or a close variation of it. Subheadings (h2 and h3 tags) should also contain variations on your keyphrase/keyword. As far as the body of your page is concerned, include you keyphrase(s) and variations of your keyphrase as many times as feels natural — ideally at least 5 instances.
Whilst a lot of emphasis is placed on targeting certain keywords, you shouldn't overwhelm the piece. Although picking up on keywords is one part of Google's search algorithm, they also place a lot of emphasis on user behaviour; if visitors to your site don't enjoy the experience of being on your site they will leave, and Google will recognise their departure. For this reason you should design each page's content with the user in mind, and avoid keyword stuffing.
---
Carefully choosing and placing keywords forms an important part of optimising a website to increase it's ranking on Google. However, it won't get your site to the top on it's own. Other factors to consider include your site's speed, backlinks, and utilising local business utilities. I'll discuss these in another post, however, there's plenty on the subject available online to get you started.